The auspicious birthday of our most revered Shri Shradhey Ji Maharaj was celebrated with great fervor and reverence on 26th January 2004 at Shri Hans Satsang Bhawan, Punjabi Bagh, New Delhi.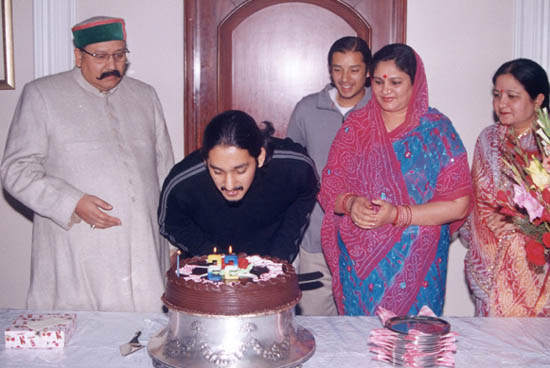 Shri Shraddhey Ji blows out the candles on his birthday cake
From early morning the atmosphere at the Ashram was full of joy and celebrations. Shri Hans Satsang Bhawan was beautifully decorated with flowers, garlands and lights. Faces glowed with joy, love and reverence as everyone eagerly grabbed the chance to join in the decoration, preparations and offering service. The main program and ceremony took place at the new block of land near the Satsang Bhawan. Though it was quite cold, premies arrived early the previous day to offer their respects. From early morning the Satsang Bhawan reverberated with songs of felicitations and greetings.
At about 11.30 a,m,. as Shri Guru Maharaj Ji, Mata Shri Amrita Ji and Mata Shri Mangla Ji, along with Shri Shradhey Ji Maharaj and Shri Suyesh Ji Maharaj arrived and took their seats on stage, the joy of the assembled devotees knew no bounds and the place reverberated with their cheering. The birthday ceremony was performed in the traditional way by a priest chanting Vedic hymns. He forecast a bright and successful future for Shri Shradhey Ji Maharaj, wherein he will succeed in spreading the light of goodwill, amity and divine knowledge in society. He also predicted good times ahead for the divine family as well as the devotees.
At about 12.30 p.m. Shri Guru Maharaj Ji, blessing Shri Shradhey Ji Maharaj, said "ShraddheyJi has now entered his 23rd year. We wish him all the very best for a long life full of achievements and fame. He is also organizing a series of 'goodwill rallies' early this year". He further said, "Great enlightened souls, after taking birth in the families of the enlightened, gather energy in an environment of devotion and goodwill. These enlightened souls spread the light of divine knowledge in the world with the cooperation and goodwill of all. Shradhey Ji is doing the job of spreading goodwill very well. Today, though we talk of nonviolence, we still indulge in violence. When we lose our temper, we forget that it is we ourselves who are first and foremost the losers. Similarly, a greedy person bears the greatest loss. He loses his self-control and his discretion and that is why saints talk about acquiring spiritual knowledge and concentrating the mind. That is why they say, "Man, know thyself". The greatness of great persons is like fragrance that spreads all around, making the whole environment fragrant. Great persons, in order to uphold morality and ethics, willingly sacrifice everything, as did Rama, so that people are able to follow. It is the spiritual knowledge that changes the demonic nature. Legend says that when Lord Shiva imparted this divine knowledge to Parvati, a newly-hatched parrot happened to hear and became immortal. Maharshi Ved Vyas was enlightened and had written many religious treatises, yet he sent his son Sukhdev Muni to king Janak, who was the spiritual master of the time, to get divine knowledge. Divine knowledge is the ultimate knowledge. Lord Krishna says in the Gita that after the divine knowledge, the Rajvidya, nothing remains to be known. It is most heartening that Shradhey Ji is endeavoring to spread such knowledge and goodwill ('sadbhawana').
After this, Shri Shradhey Ji Maharaj addressed the gathering, saying, "Devotees and divine souls! We are meeting for the first time this year on the occasion of this birthday party, so I wish you all the very best for the new year. We pray to Guru Maharaj ji that the coming year be auspicious for all of us. May it bring maximum benefits of darshan and satsang to everyone". He further said that at the end of their life, people think over the way this life was lived and in what way, this precious life, obtained by the grace of God, was utilized. Because it is the deeds of a man that make him conspicuous. The great do not indulge in lengthy speeches of self-glorification. In fact, their deeds are like a precious diamond, which never speaks of its own value. Therefore, a great man is known by his work, because he devotes his whole life to the welfare and service of others. A living being is part of the divine energy and yearns to merge into it, just as the flame of a lamp always rises up towards the sun, the origin of fire. The ultimate goal of life is like a part, which wishes to merge with its whole. Giving to the world brings happiness while receiving creates bondage. Therefore, by spreading love, goodwill and divine knowledge, one should evolve and attain the goal.
After his discourse he was adorned by flowery headgear prepared by Mahatma Fakiranand and greetings were read on behalf of the premies. Arti was performed by the divine family and the premies were blessed with darshan. Though the place was way too small for the large gathering, everyone behaved in a disciplined fashion, moving in long queues to get prasad. Thus re-energized, they went their various ways.
In the evening too, Shri Shradhey Ji Maharaj and Shri Suyesh Ji Maharaj enjoyed themselves celebrating with the devotees. Mahatmas, Bais and the Premies present there sang "Happy birthday to you" and "Tum Jiyo Hazaron Saal" (may you live for a thousand years). Thus the program ended on a happy note.