Vibhu Ji Maharaj, accompanied by members of Manav Utthan Seva Samiti, undertook a 'Car Yatra' which was given the title 'Yuva Nava Chetna Yatra' ('Youth Spiritual Renaissance') from Nagpur to Mumbai from 6th to 13th October 2002. The cavalcade of up to 80 cars travelled for a week, halting at different places where Shri Vibhu Ji gave his address at public meetings organised by regional branches of the samiti.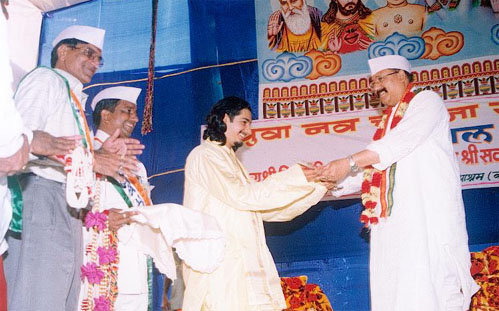 The main objective of this car yatra was to revive the dormant spirit of Indian youth and to encourage them to be self-reliant. The Lokmat Group of Newspapers was co-sponsor with Manav Utthan Sewa Samiti. The yatra started with a press conference and a public meeting on 6th October at Nagpur which was addressed by Shri Vijay Darda, Chairman of Lokmat Group of Newspapers and Member of Rajya Sabha, and Shri Vibhuji who clarified the objectives of the yatra. A senior executive of the Lokmat group flagged off the car yatra from the Nagpur Ashram of Manav Utthan Seva Samiti. The caravan of cars headed by Shri Vibhu Ji Maharaj set out for Chandrapur, halting for a few hours at Talodi where the first public meeting was organised.
At Chandrapur the evening public program was organised in the Police Football Ground and was a huge success. The venue was packed with people who wanted to hear this spiritual prodigy. Shri Vibhu Ji addressed the crowd and said, "Being young myself, I interact with young people everyday. There is an overall sense of frustration. They are getting pessimistic and losing touch with their own culture, because of the invasion of western culture. They are running after worldly pleasures and possessions which they call 'aish and cash'. They are quite alienated from our rich spiritual and cultural heritage. To awaken them and to reacquaint them with the time- honoured values of Indian philosophy and civilisation I am undertaking this yatra through the state of Maharashtra, which has long been known as a land of saints." He also said, "There are many ways of saying 'How are you?' in different languages, but the message is the same. In the same way, the true Name of God does not change with time, religion or language".
The car yatra proceeded through Amravati, Khamgaon, Jalna and Aurangabad. At the Khamgaon program, Vibhu Ji Maharaj observed, "Our Yatra began on the first day of the nine-day Navratri festival. Three days of this period is dedicated to Durga, who represents courage, three days to Lakshmi, who symbolises wealth and three days to Saraswati, who symbolises knowledge and learning. If you have strength of spirit then the main objectives in life - knowledge, wisdom, love and material comforts - are within your reach. After Navratri comes Dussehra, celebrating the victory of goodness over evil and light over darkness. The demons Ravanna, slain by Lord Rama, and Mahishasura, who was killed by Durga, represent our dark side and our negativity. Once spiritual knowledge dawns in our mind we have the strength to conquer the inner demons and become a perfectly spiritual being."
The Aurangabad program was attended by a lot of high school and college students, eager to hear what this young man would say. Vibhuji said in the course of his satsang, "Happiness and sadness are an integral part of life, they will keep on coming and going. But if you wish, you can rise above these fluctuations of life with the help of self-realisation. The inner knowledge answers all your questions, so I urge all the young people here to know who you really are and make this knowledge an integral part of your life."
The cavalcade then reached Pune, the second most important city in Maharashtra. The chief guest at the Pune public event was Mr. Joshi, President of the Maharashtrian State Congress Party, who praised this endeavour. He said, "I was invited to welcome the Car Yatra and I intended to stay here five minutes to do so then go. However, I got so engrossed in listening to Shri Vibhuji I had no idea of the passing of time. In these days of violence and terrorism, his message is of the utmost importance. I consider myself lucky to be here and am most grateful for the opportunity."

On the way to Nasik the yatra had a stop at Sangamner, for a midday program. Shri Vibhuji recounted the old story of Devotion's travels in Gujerat with her sons Knowledge and Dispassion. These days too, there is plenty of devotion in Gujerat but a lack of wisdom and dispassion. In the story, St Narad revives the unconscious Knowledge and Dispassion with satsang, and the Yatra had similar aspirations.
The Car Yatra proceeded to Nasik, where a public meeting was scheduled from 6 to 9 pm. The Mayor of Nasik City also graced the meeting with his presence. Shri Satpal Ji Maharaj and Mata Shri Amrita Ji joined the yatra at Nasik. More than twenty thousand people from Nasik gave a rousing welcome to the "yatries" with a band and fireworks.
Shri Vibhuji and Shri Satpal Ji Maharaj addressed the public meeting which concluded with each member of the audience lighting a candle, symbolising the light of the spirit carried by this yatra to the hearts of young Maharashtra.
From Nasik the car yatra headed towards Mumbai, its destination. The Mumbai public meeting was organised at Shri Hans Vijay Nagar Ashram at Wasai. Shri Ram Rao Khare and Shri Singhal presented a 'sword of Shivaji', the symbol of prowess, to Shri Vibhu Ji Maharaj. Shri Satpal Ji Maharaj, Shri Vibhu Ji and Shri Amrita Mata ji spoke on this occasion. Shri Satpal Ji Maharaj and Vibhu Ji Maharaj thanked the Chief Minister of Maharashtra Shri Vilas Rao Deshmukh, for banning the sale of all types of tobacco gutakas which contain carcinogens.
The program, and the Yatra, concluded with devotional songs, Arti and darshan.