Religious tolerance and national unity were the motivating themes of the 3-day Manav Dharam Sammelan held at Ram Lila Ground, Delhi on 8th , 9th and 10th November. India in all its colourful cultural and linguistic diversity was on display with participants from every corner of the country, as well as from Nepal, Bhutan, Mauritius, UK, USA and Canada. It is estimated that nearly 300,000 people attended the program over 3 days.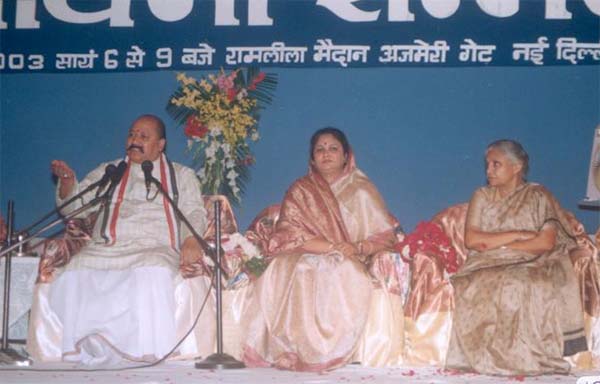 Shri Satpal Ji Maharaj delivering discourse
The annual Hans Jayanti festival is the highlight of the premie calendar as it celebrates the life and teachings of the great Shri Hans Ji Maharaj, a spiritual giant of the 20th century. The logistics of an event on this scale are awesome and planning begins months in advance under the skillful supervision of Shri Maharaj Ji himself. A tent city covers the huge Ram Lila Ground, dominated by a stage area which has to allow for an audience of thousands upon thousands. Manav Utthan Sewa Samiti has got the arrangements for catering, bathing and sanitation down to a fine art over the years and everything went off without a hitch. Premies started arriving from 7th November and service, satsang and darshan began in earnest from the morning of the 8th.
The first evening's program began with Mahatmas Paramsitanandji and Narayanandji discussing in detail the role satsang, meditation and devotion play in establishing a solid foundation in life. Soul is the source of life for every living thing and experiencing and realising this force brings the highest rewards in life.
Shri Shraddhey Ji then spoke, saying that mind can be the means of liberation or the cause of bondage. Self-realisation is vital for steering the mind away from a downward trend towards a positive and beneficial course. We may speak different languages, we may behave and dress differently, but all these apparent differences disappear when we sit in satsang and experience naturally that which is common to us all. Nihilistic tendencies seem to be on the increase in the world today and the media is full of reports of terrorism, violence, and communal tensions. Spiritual Knowledge has the power to neutralise negative eruptions of the mind, so spreading this Knowledge is a great favour which we can do for society.
Shri Vijay Babu Darda, Maharashtrian member of Rajya Sabha and Chairman of the Lokmat Group of Newspapers, said there was an urgent need to establish mutual trust and cooperation among all communities to contain the cult of violence and fundamentalism that had permeated the social fabric of the nation. "The message of mutual love and brotherhood disseminated by Manav Dharma can be instrumental in promoting social integration and harmony among the people," he said. He garlanded Shri Maharaj Ji, Shri Bhole Ji and Shri Shraddhey Ji and was in turn offered garlands by senior officials of Manav Utthan Sewa Samiti. He also said, "Not a leaf falls without the power of God and it is by God's grace that a person attends satsang and listens to the blessed words of saints and Masters. Until now I'd thought of Shri Maharaj Ji as a leading political figure, but last month when I watched his eldest son set out from Nagpur at the head of a convoy of cars with the ambitious goal of rekindling spiritual awareness in the youth of Maharashtra, I had a glimpse of Maharaj Ji's spiritual greatness. His noble character, natural dignity and kindness shine through in the way he gets things done in the political arena as well." He went so far as to call Shraddhey Ji "heroic" and added, "The parents who raised such a noble son are indeed blessed." He concluded his address with the wish that God may fill everyone with light and love and that we may always have access to such noble souls as Shri Maharaj Ji.
Shri Bhole Ji Maharaj led the audience in an uplifting devotional song, then across the vast expanse of Ram Lila Ground there was pindrop silence as Shri Satpal Ji Maharaj prepared to speak.
"The main idea being expressed at this program is that we should tune our mind to God. The crux of the teachings of all the great saints, Masters and scriptures was always that one should plunge his mind into the Holy Name," he said. "If a light bulb is disconnected from its power source it will not shine. A saint said, 'Without knowing the Name, mind stumbles around in the dark. If you don't find the door of the Name you will keep on revolving.' Once there was a king who asked, "Is there anything on which neither sunlight nor moonlight ever falls?" The wise poet Kalidas answered, 'Darkness is that very thing.'"
Illustrating his talk with examples from different scriptures, Maharaj Ji explained that there is only one Truth but the wise have expressed it in their own ways. Over the centuries India has accommodated so many religious groups and philosophies that it itself is a model of world culture. Many other countries in the region owe a great deal of their cultural heritage to the Indian influence.
After satsang and well into the night darshan lines stretched as far as the eye could see. Shri Maharaj Ji, Shri Amrita Mataji, Shri Bhole Ji Maharaj, Shri Mangla Mataji and Shri Shraddhey Ji Maharaj sat for hours so that premies could file past and pay their respects.
By sunrise the next day, Ram Lila Ground was already buzzing with activity. Premie clinics offered ayurvedic, homoeopathic, acupressure and magnetic treatments and there were dental and eye clinics as well. The Prem Nagar and Punjabi Bagh Ashram bookstalls were thronged with people eager to buy books, magazines, audio and video cassettes of programs and tapes of devotional music. The food and beverage stalls and the main dining area were always packed.
A famous singer from Darjeeling, Indira Kshetri and Shruti Malviya from Lucknow opened the evening program with their recitals of devotional songs, setting the mood for an evening of satsang.
Maharaj Ji began his discourse by saying, "This venue is called 'Ram Lila Ground'. Rama symbolises the victory of righteousness over evil. At this time of year we also celebrate Diwali, which commemorates the victory of light over darkness. In other words, we should put the principles of dharma into practice in our lives. 'Don't delay in doing good' was the lesson Ravanna gave on his deathbed. People have believed in the Bible for the last 2000 years or so and the Koran for the past 1400 years. Sanatan Dharma is the timeless religion of India. Its Vedas, Puranas and Upanishads contain the wisdom of the ancient sages and are taught in schools and colleges and even on TV. Even so, there is still so much fighting and killing in the name of religion because of a lack of genuine spiritual insight. Killing those whose ideas differ from yours is not dharma. One great divine power runs through us all, experiencing this is 'manav dharma' and we hold these huge programs to spread this message."
Maharaj Ji appealed to the people to stand united as a nation and deal a decisive blow to disharmony, violence and international terrorism. He said that the spiritual power of India was an antidote to violence and unrest all over the world. "Many invaders have come and plundered the material wealth of the nation, but the real treasure is hidden in our spiritual wealth and we should go back to it in order to help the world usher in an era of peace and prosperity," he said.
Maharaj Ji said that India had always been admired for its unity in diversity. He compared the country to a huge garland where people from various religions are like different-coloured flowers strung on the single thread of immortal soul.
He then presented to the audience a souvenir book and audio and video cassettes of the recent 'Yuva Nava Chetna Yatra' led by Shri Shraddhey Ji from Nagpur to Mumbai. Shri Bhole Ji led everyone in a rousing rendition of the popular hymn "Raghupati Raghav Raja Ram…"
Shri Amrita Mata Ji spoke next, saying that radio and TV waves are all around us, but we can't perceive them without a suitable instrument. In the same way, the divine energy of Life is within every creature, but only those who experience it get the real benefit from it.
Shri Mangla Mata Ji recalled the great sacrifices Shri Hans Ji Maharaj made to spread Knowledge. He had the gift of explaining the mysteries of the Gita, Ramayana and Koran in a way that was easy to understand and he challenged anyone to prove him wrong.
Shri Shraddhey Ji then spoke, in English first, discussing the meaning of 'satsang', saying that even for a short journey we pack so much stuff, but what preparations have we made for the ultimate journey? Do we even know what to take with us? "When the sun shines, water evaporates, but a single drop cannot form a cloud - it takes innumerable drops to make a raincloud. Similarly, a single person may not be able to do much, but when we unite our strength, like raindrops forming a stream, a river and then an ocean, we can bring about changes for the better in society."
The Editor of the newspaper Punjab Kesri, Shri Mahendra Khanna, observed, "What we have here is not merely Gyan Ganga ('the Ganges of Knowledge') but a mighty ocean!" He exhorted all present to absorb Maharaj Ji's message and take it to every town and village and then we could say that we have truly benefitted from attending this program.
Other special guests at this evening's program were Shri Chandan Singh Payal (Organisational Secretary, All INdia Congress Committee), senior Congress leaders Shri Puran Singh Ingval and Shri Vijay Pant, veteran journalist Shri Devender Upadhyay, Shri Avtar Negi, Shri Madan Singh Bisht (former head of the Student Union, Delhi University) and prominent social and political figures from Uttarakhand.
The program concluded with an exciting performance of Himalayan dance and drama by a Darjeeling premie troupe.
On the 10th November, children from all over India, Nepal and Bhutan got together for the annual Bal Sabha. Regional folk dances, speeches, sketches and songs were performed, delighting and inspiring the young audience.
By 5 p.m., Ram Lila Ground was so packed out that special screens were installed around the site so that everyone could have a good view of the stage and speakers.
Mahatma Parvati Baji sang a moving bhajan in memory of Shri Hans Ji Maharaj. During his discourse Shri Satpal Ji Maharaj said that we have to break through our limitations, our mental barriers. Our thoughts should be as high as the Himalayas and as pure as the Ganges, which quenches the thirst of one and all, regardless of caste or religion. We should serve others in the same spirit, then society will change for the better. The only thing that needs to change in order to change the times, is human mind. When we change, the times will change. Factories are there to produce a variety of wares, and Manav Dharam Sammelans are there to change people into 'humane' beings.
Congress General Secretary Shri Motilal Vora then gave an inspiring address. He said that Mahatma Gandhi's hymns were instrumental in raising the national consciousness and bringing freedom to India. In the same way, Maharaj Ji's mission is to bring peace, love, harmony and religious tolerance through the spiritual Knowledge he teaches and this is highly commendable. He expressed his gratitude to Maharaj Ji and M.U.S.S. and said that in the present climate of terrorism, intolerance and communal tension, people feel very insecure, so there is a need for these 'Manav Dharm' programs to be held across the country.
On behalf of M.U.S.S. and those present, Shri Maharaj expressed his gratitude in turn to Mr Vora, and said that, on their own, the Himalayan streams such as the Dhauli, Alaknanda and Mandakini cannot reach the sea, but once they flow together in the form of the Ganges, they easily reach the ocean and merge with it. In the same way, Hindus, Sikhs, Muslims, Christians, Buddhists and Jains are present here tonight, all sitting together in this huge, ocean-like audience. He also said that Nature has become hostile due to unnecessary and relentless human interference, and the natural rhythms have to be restored.
Other special guests this evening were senior Congress Party leader Shri M.L. Fotedar, former UP State Minister Shri Ram Rattan Singh and former legislator Shri Parmatma Prasad Singh.
As the program concluded with the ancient hymn, Arti, the vast Ram Lila Ground looked like a sea of lights. Audio
- Ashok Saxena