Hans Jayanti, the mammoth program commemorating the life and work of Shri Hans Ji Maharaj, was held, as it is every year, at Ram Lila Ground, Delhi from 7th - 9th November.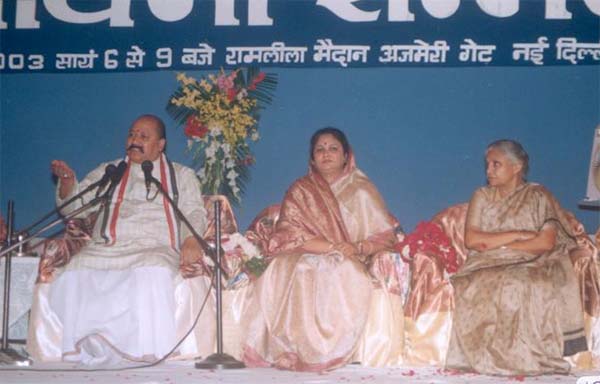 Sadgurudev Shri Satpal Ji Maharaj delivering discourse to the audience on the eve of Hans Jayanti
The program went under the title of Sadbhavna Sammelan, so desperately needed in Indian society today. Sadbhavna literally means goodwill, with overtones of respect, peace and harmony. It incorporates the Buddhist ideal of 'right attitude'. So the objective of the Sammelan (meeting, conference or gathering) was to broadcast and promote goodwill, harmony, tolerance and loving-kindness among the many religious and social groups within India. Sadbhavna should not be just a concept, it should be a practical manifestation of an inner realisation. This is what Shri Satpal Maharaj Ji is working so hard to promote at every level of society, engaging political, social and religious leaders and people from all walks of life to secure a better deal for the poor and underprivileged sections of society. Sadbhavna for a meditator has a further level of significance too, that of 'meditation in action' and this is what Shri Maharaj Ji's work is all about. So knowing the eternal, unchanging reality within oneself and radiating this power as a positive force for social change is sadbhavna
This annual function of our Society was organised and celebrated peacefully and effectively under the guidance of Shri Maharaj Ji. . Preparations started from October 27, Premies of nearby areas i.e. U.P., Haryana and Delhi offered their services from the very beginning which helped to a great extent in getting everything ready on time. On 6th November Shri Maharaj Ji met a huge gathering of Manav Sewa Dal members. He expressed his appreciation of the contribution made by this volunteer organisation. He added that sadbhawana is the immediate need of the country and Manav Sewa Dal needs to add leading values to it He stressed the importance of service to society and security to the nation and advised them to be alert and aware about their surroundings while performing their duty.
By 6th November thousands of premies had reached Ramlila Ground. Shri Maharaj Ji, Shri Bhole Ji, Mata Shri Amrita Ji and Mata Shri Mangla Ji sat for hours giving darshan.
The Sammelan began on November 7 with the lighting of the inaugural flame by Shri Maharaj Ji, Mata Shri Amrita Ji and Smt. Shiela Dixit, Chief Minister of Delhi. During his opening satsang on 7th November, Shri Maharaj Ji said that the noble ideals expressed at this gathering are meant to lead people to the truth, so that their lives can reach their full potential. That is why we are here. Satsang shows the way to make this rare gift of a human life a success. The Master uses the scriptures like a map to show us the way to our destination. Just as a wick is the medium for a flame to set off fireworks, satsang is a triggering process. It sets off a transformation in the mind. It is written in the Ramcharitmanasa, "I humbly declare a secret to you…without Shiva meditation a person cannot be a real devotee of mine." What is this secret "Shiva meditation?" That can be understood only through inner experience.
He also said that society is drifting, the poison of mistrust is spreading, people are turning on each other. This is when the spiritually-minded step forward. Their nature is to rescue, and this they do through the message of sadbhavna. "Let the devil do his worst, but we must do our best" is their motto.
Shri Shradhey Ji then gave satsang and said, "You have come here from every corner of India, with your different lifestyles, culture and languages, but here the grace of Guru Maharaj Ji is the thread drawing us all together. Ancient civilisations like Egypt and Babylon have disappeared but the eternal wisdom, the continuity of Indian civilisation is unbroken, due in great part to the guru-disciple tradition."
Many prominent public figures, such as the Chairman of Delhi Metropolitan Corporation Shri Rambabu Sharma, were special guests at the program. Mrs Sheila Dixit, Chief Minister of Delhi, praised Maharaj Ji's efforts to preserve the unity and integrity of the country and expressed her belief that the outstanding quality of Indian culture is its ability to embrace people of all faiths, like a mother embraces all her children, and this program exemplifies this. The viper of terrorism is poised to strike, so by spreading the powerful and universal message of the ancient sages Maharaj Ji and his organisation are doing a great service to this nation.
8th November is 'Hans Jayanti' Day. Darshan lines running the length of Ram Lila Ground and back began forming early in the morning and darshan went on all day. Premies and visitors had plenty of opportunity to stock up on books, cds and videos, as well as handloom products and natural medicines made at Prem Nagar Ashram. There was also plenty of service available, especially in the non-stop meal preparation area.
In the evening, thousands upon thousands of people made their way to the stage area for satsang, enjoying performances by musicians from Aligarh to Hyderabad, Kathmandu to Gwalior.
Special guest Shri Rangnath Mishra, the former Chief Justice of India, greeted the vast audience and congratulated everyone for participating in Maharaj Ji's mission to spread the light of sadbhavna. He noted that "vasudhaiv kutumbukan ('the whole world is one family') has always been a hallmark of Indian philosophy and only sadbhavna makes life peaceful, beautiful , simple and joyous.
In his memorial speech, Guru Maharaj Ji said that Shri Hans Ji Maharaj slowly and gradually spread the notion that one should think about others' welfare as well as his own. He was very concerned about the perilous state of the world and held many conferences, including the "Antidote to Nuclear Bombs' program. The seed of Knowledge that he sowed in so many human hearts has grown into a huge tree. He explained what religion (dharma) really is and taught that self-realization is not just for oneself but for the good of the world at large.
Shri Satpal Ji Maharaj remarked that wherever he speaks nowadays - whether Hyderabad, Raipur or Mauritius - the venues are way too small and larger will have to be found in future. He also said that for education to be truly humanitarian it needs to be infused with spiritual concepts.
Mr L.P. Shahi, Chairman of the Congress Working Committee, stated that Mahatma Gandhi and his Independence Movement, by the power of sadbhavna, were able to galvanise the Indian people into a sense of common purpose and thus they were able to throw off the British yoke. He further said that if the peacefulness and discipline pervading this program were to spread nationwide there could be vast improvements in society and its latent potential unlocked and developed.
Shri Amrita Mataji gave the example of Johnny Appleseed and said that due to Shri Hans Ji Maharaj's tireless efforts such a gigantic audience has gathered here to listen to satsang. Due to his grace the seed of spiritual Knowledge has grown into a huge tree and has spread not only to most towns and villages in India but is generating interest abroad as well. We have to follow in his footsteps and continue to spread his message of peace, harmony and goodwill.
Another prominent member of the C.W.C., Mr Ahmed Patel, thanked the audience and expressed his belief that this program's success would strengthen positive forces within society and weaken the forces of ill-will, mistrust and divisiveness. He exhorted everyone to be a torchbearer of sadbhavna to illumine the nation.
For three days Ram Lila Ground had been an oasis of serenity and joyfulness in the midst of the noise and bustle of Delhi's rat-race. The inspiring strains of melodious bhajans filled the air as more than 200,000 people gathered for the third evening of satsang, on the 9th.
Mr D.D. Kaushik, a premie from Calcutta, described Shri Maharaj Ji as a living embodiment of sadbhavna. He listed characters from the Ramayana epitomising the ongoing struggle between good and evil, and observed that unnatural human behaviour is upsetting the natural balance and is threatening the survival of life on earth altogether.
Maharaj Ji gave his concluding address and said that this gathering would be a lighthouse to those who would come forward to spread the ideals of sadbhavna and expressed his wish, "May hatred by supplanted by love and darkness by light!"
Shri Shraddhey Ji spoke next and recalled Shri Hans Ji Maharaj's mighty efforts to spread Knowledge to many parts of India, despite a lack of resources. He said that satsang is the factory which turns danav into manav and announced that next February a Sadbhavna Yatra would take place from Gwalior to Jabalpur.
At this point in the program attendees from U.K., USA, Germany, Hungary, Bhutan, Nepal, Dubai and Mauritius garlanded Shri Maharaj Ji and the members of his family. The program concluded with Arti, an uplifting spectacle of thousands of candles shimmering in the night air and thousands upon thousands of voices joined in praise. The audience then pledged as one to take the message of sadbhavna to every nook and cranny of the land.
The diverse nature of the participants, coming as they did from every corner of India and Nepal as well as from several other countries, and the peaceful harmonious and happy environment they created, was very impressive and the national press gave it good coverage.
- Ashok Saxena