"These days we simply celebrate Holi in the traditional way by throwing coloured water at each other and lighting bonfires, but we have forgotten its spiritual aspect - that it is the symbol of unshakeable love and faith in God, goodwill and respect for each other and the victory of good over wickedness."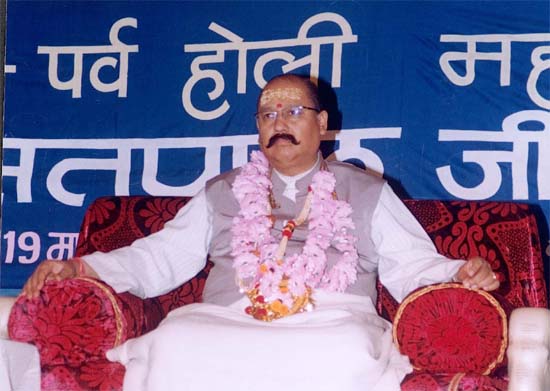 Sadgurudev Shri Satpal Ji Maharaj
Shri Satpal Ji Maharaj was speaking at the 2-day Holi festival and satsang program held on 18 and 19 March, 2003 on the campus of Shri Hans Intermediate College, Satlok Ashram, Muradnagar. It was attended by thousands of premies from mainly the neighbouring north Indian states of Delhi, Haryana and western Uttar Pradesh. Shri Maharaj Ji also said that social progress is possible only when people become more like the legendary Prahlad, who had risen above anger, greed, narrow-mindedness and petty ego. Prahlad's father tried in many ways to kill him but failed, so finally he asked his sister Holika to wear her fireproof sari and sit Prahlad on her lap in the middle of a blazing fire. However, the spell that protected her was reversed - she was burned to ashes while Prahlad was completely unharmed, protected by his unswerving faith and love for God.
Shri Maharaj Ji called upon the audience to spiritualise their actions and character. When a person radiates decency and integrity he will automatically attract others to the spiritual path. On the other hand, when a person does not practise what he preaches he repels others and puts them off following his path. Everyone has to reap what he has sown. No one is exempt. Even a noble king like Dasaratha had to pay for his actions. When he killed young Shravan Kumar by mistake, the boy's aged parents cursed him to die of grief due to separation from a beloved son, the same fate he had inflicted on them. The curse took effect when Rama went into exile and Dasaratha died from grief. If you deceive someone, you in turn will be deceived.
Shri Maharaj Ji said that, according to the Bhagavad Gita, whatever one remembers with his dying breath will determine the circumstances of his next life. If a person has thought of nothing but worldly things all his life it's unlikely he will be able to remember God as he dies. Life is transitory, so we should push all other thoughts from our mind and meditate on God's Name. Remembering the Holy Name calms the vacillating mind. If mind thinks about something which is not still it will become even more unstable. The eternal and infinite Name cannot be grasped by reason, because reason has its limits. When a river merges in the sea it loses its name and form and becomes part of the ocean all around it. In the same way, when a soul merges in God it achieves total saturation, perfect peace.
Maharaj Ji condemned the escalating military tension as a threat to all mankind. War never benefits anyone. It is the externalisation of mental abheration, it is the result of distorted mental processes. War creates orphans and widows, it tears brothers away from their sisters, it causes heartbreak for mothers. He appealed to governments worldwide to use the money they would have spent on destructive weapons to fund humanitarian and social welfare projects. If this could happen, we would see heaven on earth.
Shri Amrita Mata Ji spoke next and urged mothers to be inspired by the stories of devotees such as Prahlad, Mira, and Swami Vivekananda, and impress upon their children the benefits of self-Knowledge, devotion and social service. She discussed the role the mother of the Maratha king Shivaji played in making her son so great. A child's first tutor is his mother. The environment she creates for her children and her guidance and support are crucial in determining how they grow up.
On the second day of the program, Shri Satpal Ji Maharaj urged his listeners to realise the power of spiritual experience, to strengthen their faith in God and work to encourage the positive forces in society. "The more flowers and greenery are added to a bouquet the more lovely it is, and in the same way, Hindus, Muslim, Sikhs, Christians, Buddhists, Jains and Parsees are all beautiful flowers in God's bouquet. Rama and Allah are not different powers - it is only a lack of knowing that makes it seem so.
'Water is called by many different names, but its chemical composition does not change and it quenches everyone's thirst alike. In the same way, there is only one Truth but seers attempted to describe it according to their respective time, place, language and situations. There may be many languages but that does not change the ultimate Energy. Maya is constantly changing, whereas the soul is eternal, immortal and indestructible. No matter how many scriptures a person reads or how many gods he worships, it is fruitless if he does not experience actual inner Knowledge.
'When a person can have the same unwavering faith in God that Prahlad had, nothing in the world can shake him. This is what Holi teaches us. Some people celebrate Holi with drugs and alcohol, the effects of which wear off the following day. But the bliss of the Holy Name never wears off and blessed are those who experience it.
'All saints and masters taught, 'Live and let live'. They always come to unite, not divide. War clouds are gathering across the planet, which is a cause for grave concern. War is never a solution and after all the devastation, treaties have to be made in the end. War first erupts in the human mind. For goodwill and peace in society, the human mind must change and this happens only through spiritual awakening."
Mata Ji then said that only a sincere heart can comprehend what a saint says. Pride comes before a fall and should be avoided. To understand Knowledge and achieve salvation, we have to work hard to purify ourselves and get rid of our negativity.