SHRI SATPAL JI MAHARAJ HEADS THE 'SADBHAVANA PADYATRA'
FOR NATIONAL UNITY AND SOCIAL HARMONY
Shri Satpal Ji Maharaj, spiritual leader and social activist, recently led a Sadbhavna Padyatra ("Goodwill March") through Gujarat. The aim of the march was to revive the ideals of Mahatma Gandhi and Sardar Vallabh Bhai Patel, who were the architects of national unity and social harmony in India, and to spread the message of goodwill, better understanding and feelings of brotherhood, promoting social and national integration among people of different castes and religions. Religious bloodshed and rioting have divided the people of this state and social harmony has taken a battering. It is presenting not only a serious threat to social stability in this state, but also to national unity. To keep the nation strong, the first prerequisite is to spread the message of Sadbhavna (goodwill and mutual respect) among its citizens.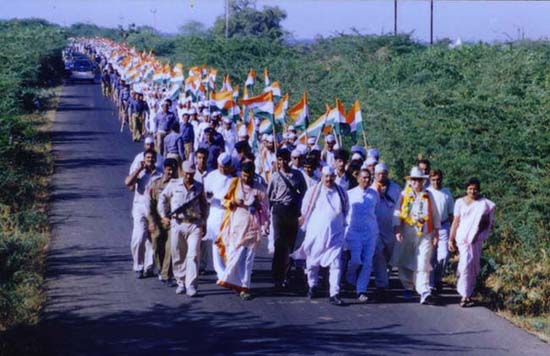 Shri Satpal Ji Maharaj leading the enthusiastic padyatries in Sadbhavna Padyatra from Dandi to Ahmedabad, which started on 17th Nov., 2002 to be concluded at Ahmedabad on 8th Dec., 2002.
It is with this objective the Sadbhavna Padyatra was started on 17th November, 2002 from Dandi, the historical place where Mahatma Gandhi, the father of the nation and tireless advocate of Hindu-Muslim unity, went to break the salt laws, a symbolic struggle against social injustice and oppression. The peace march was started after Shri Satpal Ji Maharaj garlanded the statue of Mahatma Gandhi. More than two thousand Padyatries (participants) - men and women - marched along. All of them were wearing Gandhi caps as a symbol of social integration. They also wore tri-color sashes and carried tri-color flags denoting national unity and patriotism. As they walked they sang the Mahatma's favourite Ram-dhun (hymns), thus rekindling the memory of the satyagrahis of the famous Dandi-Yatra.
They shouted slogans such as "Satpal Ji Maharaj ka ek hi nara, jage Bharat desh hamara", "Satya ahinsa prem pyar, manavata ka yahi aadhar", "Manav ka kalyan kahan, Sadbhavana sambhav jahan", "Pyar ka dhaga kabhi na toro, Bikhare hue samaj ko joro", "Bhed-bhav ko door karo, Bharat ko majboot karo", "Hum ek hain, hamara desh ek hai", "Desh ki raksha, sabki raksha", "Hum ek hain, hamara desh ek hai", "Gandhi Ji ka sandesh failain, Bharat ma ka maan badhaen", "Mahatma Gandhi, amar rahe", "Sardar Patel amar rahe", etc.
At the start of the march a prayer-meeting was held at Dandi and addressing it Satpal Ji Maharaj said, "In the year 1930 Mahatma Gandhi, the father of the nation, marched from Sabarmati Ashram in Ahmedabad to Dandi, to awaken and unite the people of India in the fight against divisive forces and cohesive oppression. Inspired by Mahatma Gandhi and to revive his ideals in our society as well as to rekindle his teachings, we are undertaking this peace march."
After passing through Jalalpur and covering a distance of 17 km, the first stop was Navsari, where an evening prayer-meeting was held at Patel Samaj School grounds. Addressing the meeting, Satpal Ji Maharaj said, "Ill-will and suspicion will never strengthen a nation. It is only through love, positive understanding and mutual trust that India can be saved from the scourge of communalism. We can fight terrorism only when we are all united". More than ten thousand inhabitants of Navsari received his message of respect, tolerance, peace and co-operation, essential for the development of Gujarat as well as the country.
Twenty-one km from Navsari, via Asunder village where a warm reception was given by the villagers, was the next stop of Sachin-Kanakpur. Another prayer-meeting was held here, which was addressed by Satpal Ji Maharaj and other marchers.
On 20th November, 2002 the Padyatra passed through Kailashnagar and Udhana and finally reached Surat where a prayer meeting was held at Manav Dharam Ashram, near Katargram Darwaja. Addressing the massive gathering, he said, "What is happening in Kashmir and the north-eastern states will develop here. People will start killing each other and terrorism and extremism will thrive. So for the sake of our children's future, we have to give up durbhavana (ill-will and hatred) and sow the seeds of sadbhavana (respect, tolerance and understanding) in people of all castes, creed and colors so that our state and country can again take the path to development, prosperity and righteousness."
On 21st November, 2002 after traversing 17 km, the march reached Sayan village where hundreds of villagers, students, teachers and the Principal of Sayan High School welcomed it. Inspiring the students, Satpal Ji Maharaj said "We have to carry this message of sadbhavana to every home, village and town so that our nation can be strong and no external or internal forces can weaken it. If East and West Germany can reunite and co-exist again, if North and South Korea are trying to unite and all the European countries are unifying under one common currency, then why can't we Indians stop hating each other and be united?"
On 22nd November, 2002 the peace march passed through Sachingaon, Madhargaon, Khalipor, Kanthrajgram, Vihan, Erthan and Kandaram and reached Bhadol - a distance of 15 km. On 23rd, the marchers passed through Badoligaon, Sahol, Balotapatia, Raima, Vasverpatia and Khalava and reached Hansot after covering a distance of 20 km. The villagers gave a very warm welcome to the marchers and offered them refreshments. They said that after a gap of 72 years, they were witnessing the revival of Gandhi's ideals.
During his historical Dandi Yatra in the year 1930, Mahatma Gandhi and his marchers also passed through this village and he stayed at the house of Nathuram Bhatt. When Satpal Ji Maharaj went to his house, Mr. Bhatt was overjoyed and said, "My house has now been sanctified. I am sure that this Padyatra will be remembered in the annals of history and will surely be a beacon to society". Satpal Ji Maharaj and all the padyatries thanked him and the other villagers for the warm reception given by them.
On 24th, after covering a distance of 18 km, the march passed through Seragram, Digasmodia, Sajed, Nagal and Pungam, then reached Ankleshwar where a prayer-meeting was held at E.N. Jeenwala School. Welcoming the marchers Shri Hirabhai Modi, a well-known figure in that area, said, "This march has rekindled memories of the famous Dandi Yatra. I am confident that it will spread Sadbhavana and help establish peace and communal harmony."
He further said, "Nowadays the country needs idealists and social reformers like Satpal Ji Maharaj who can pacify the burning rage in our society with their message of love, unity and peace." He emphasized his belief that the penance undertaken by Satpal Ji Maharaj will surely bear fruit and Gujarat will once again be a peaceful and prosperous state.
Addressing the pious gathering, Satpal Ji Maharaj said that at one time India was known as the 'Golden Bird', admired all over the world. It was once called "Vishva-Guru," the guide to the world. But social disparity, suspicion and prejudice among us has weakened it so much so that now it is an under-developed and weak country. So if we want India to become a great and strong nation, we have to give up 'durbhavana' and propagate 'sadbhavana'. Then peace and harmony shall be established in our country, every hand will get work and only then will there be overall development of the state as well as the country.
On 25th November, 2002 the march reached the town of Bharuch after covering a distance of 13 km. The proprietor of the Shital Hotel, Shri Govindbhai Ranchhorbhai, was so impressed by the ideals of the march that he offered to lodge the media contingent and other guests accompanying the march free of cost, for which he was thanked by the organizers. During a press conference that evening, one reporter asked how many Hindus and how many Muslims were participating in the padyatra. In reply, Satpal Ji Maharaj said, "Rather than asking how many Hindus and how many Muslims are marching; ask how many Indians, how many human beings, are marching. This division of society in the name of caste, creed and religion will do no good but only weaken the country".
After that, addressing the mammoth prayer meeting at the hostel ground, he said that if ill-will, prejudice and divisiveness continued to spread, it would encourage extremism and terrorism, which is very dangerous to the health of society as well as to national security. Emphasizing the strength of unity, he said, "Unless we are united we shall not be able to fight the external divisive forces which are trying to weaken the country. So for both the prosperity and security of the nation we have to identify those who are trying to divide us in the name of caste, community and religion and revive theGandhian spirit of tolerance, universal brotherhood and national integration."
On 26th while proceeding to Kargatgram, he visited the building near Sevashram Hospital at Bharuch where Gandhiji stayed on 26th March 1930 on his way to Dandi. To everyone's surprise, the dates coincided, the difference being a gap of 72 years and 8 months. The march then passed through various villages until it reached Kargatgaon, covering a distance of 18 km. While addressing the prayer-meeting, Satpal Ji Maharaj said that for the integral development of the state, respect and trust among the different communities is essential. Citing the example of Kashmir and some north-eastern states, he said that due to the violent and volatile situation development has been retarded there, resulting in poverty and starvation.
On 27th November, 2002 the peace march passed through the village of Palej and 20 km later reached the village of Lakodaragram where a prayer meeting was held. On 28th, after covering a distance of 18km, it reached Bamangaon where also a prayer meeting was held, which was addressed by Satpal Ji Maharaj and other marchers. Passing through Por and Varnama the march reached Makarpura on 29th, covering a distance of 16 km, where a warm welcome was given by the students and villagers of the area.
Satpal Ji Maharaj addressed the students of Lal Bahadur High School and related various anecdotes from Gandhiji's childhood. He said, "We are walking from Dandi to Ahmedabad to spread the message of sadbhavana. Students have a lot of energy, so they can be the best carriers of this message to their families, villages and towns." He further said, "A weakening of sadbhavana causes a nation to decline. A country can become strong and prosperous only when its citizens are united. Therefore we should be proud to be Indians. Instead of identifying ourselves as Hindu, Muslim, Christian, Sikh or Buddhist, we should think of ourselves as Indians, as human beings. All religions stand for oneness of humanity and preach universal brotherhood."
On the 30th, the march passed through the Vadodara suburbs of Manjalpur Polo Ground, Jubeli Garden, Kothi Char Rasta, Narmada Bhavan, Dinesh Mill, Railway Garnala, Manahar Point, Diwalipura and finally reached the village of Vasana, a distance of 15 km. On 1st December, 2002 it reached Bhimpur village after covering 17 km and on the 2nd, it reached Anklao via Umetha Chokadi and Hathipur, a further 15 km. During the prayer meeting held there Maharaj Ji said, "You cannot extinguish fire with fire, you have to pour water on it. In the same way, to erase durbhavana from people's minds, we have to plant the seeds of sadbhavana and with this objective this Sadbhavana Padyatra is being undertaken through Gujarat so that peace and harmony can be re-established."
On December 3rd, 2002 the padyatra passed through Yashoda Chokadi and Badolgaon, reaching Navligaon after coving a distance of 18 km. On 4th, it reached the town of Anand, famous for its Amul Dairy. A daytime prayer meeting was held at the famous Dwarkadish Temple. That evening the marchers reached Bhumelgaon, 20 km away. On the 5th, it reached the famous Santrampur Temple at Nadiad, where a prayer-meeting was held. Addressing the meeting, Satpal Ji Maharaj said, "This march wants to inspire the attitude of 'Jio aur jine do', 'Live and let live'". Gandhiji had also addressed a prayer meeting at this temple during his Dandi Yatra.
In the evening the Padyatra reached Andhajgaon after covering 16 km. On 6th, it covered another 20 km, passing through Barsoj, Punampura, and Nainpur Chokadi, finally reaching Kaneej Patia
On the 7th it passed through Mohammedabad and other villages and after a further 20 km, finally reached Jashodanagar Chokadi where a mammoth prayer meeting was held. In the course of his address, Satpal Ji Maharaj said, "On the eve of Diwali it is our custom to burn effigies of the demon Ravana, but Ravana is not dead. He is still alive in our minds in the form of durbhavana and by publicizing it, we are making him even stronger, thus promoting destructive tendencies."
He further said that while this 'Ravana' is alive in our society, the infighting, communal riots, oppression, violence and terrorism will continue to flourish. "So if we want to establish peace, happiness and prosperity in society, we have to revive the ideals of Mahatma Gandhi in our individual lives and destroy this invisible Ravana by the power of sadbhavana".
Taking a swipe at the media, he said that if bloodshed, riots, casteism and communalism were continued to be sensationalised on TV, in newspapers and magazines simply for profit and other self-interest, this broadcasting of negativity will ruin society and the demon Ravana will never be finished off. And if the spirit of Ravanna continued to thrive it would bring destruction, poverty and suicidal deaths in its wake.
"So if we want to protect our society, if we want peace, love, unity and communal harmony to have a firm footing in our society, we have to broadcast and publicize positive things, we have to support and advertise the work of good people, the social reformers who are creating 'sadbhavana' and are actively engaged in transforming society. To ensure a bright future for our country, I urge the media to give proper coverage to positive activities and to positive ideas."
The padyatra set out early in the morning of the 8th. By now the number of marchers had swelled to more than 20,000, so the procession was more than 5 km long. It finally concluded at the famous Sabarmati Asham in Ahmedabad after covering a distance of 18 km that day.
Addressing the massive gathering at the prayer meeting held at Gandhi Ground, Satpal Ji Maharaj said, "We have concluded our march from Dandi to Sabarmati Ashram, following almost the same route taken by Gandhi, with the objective that the ideals of Mahatma Gandhi remain alive in our thoughts and deeds and that peace may prevail in Gujarat."
He said that when Bill Gates came to invest in India, he chose Andhra Pradesh and Uttaranchal as they are relatively peaceful states. He didn't choose Gujarat because of the communal riots and the tense situation prevailing there. At one time Gujarat was the leading industrial state in India but now it had slipped down to eighth and if sadbhavana did not replace durbhavana, it would end up last. Industrial development would stagnate, unemployment would increase, laborers would not get work and the state would go into economic decline. Therefore the people of Gujarat must understand that communal hatred is harmful for all sections of society.
He further said, "Fire cannot be extinguished by fire. We need the fire brigade of water to extinguish fire and similarly, we need the fire brigade of sadbhavana to wipe out durbhavana from people's hearts and create an ideal atmosphere of mutual respect and trust amongst people of all castes, colors and creeds. This march aims to inspire kindliness, noble sentiments, goodwill and friendliness and to encourage people to stand up to terrorism, religious fanaticism and extremism so that our society does not destroy itself."
The padyatra was welcomed all along its route by thousands of villagers of various communities. It will be long remembered for spreading the healing vibrations of love, peace and brotherhood, which is the dire need of the time. Shri Satpal Ji Maharaj has undertaken various such Padyatras in the past for national unity and social harmony. His first padyatra was a 700km journey from Badrinath to Delhi, the second one was from Siliguri to Gangtok, the capital of Sikkim, crossing the mountainous regions of Darjeeling. His third padyatra was from Bodha Gaya to Patna to spread Lotd Buddha's message of non-violence. The fourth was from Magahar (where St Kabir was cremated) to Lucknow, and the fifth was from Gopeshwar, (Garhwal) to Muzaffarnagar.
Prof. C.L. Tandon
Org. Secy., Sadbhavna Padyatra.