Social unity, peace, communal harmony, brotherly love and a renaissance of ethical values in public life are the most important issues facing the world today, and the aim of the 3 day Vaisakhi program at Prem Nagar Ashram, Hardwar (12-14 April 2003), attended by more than 150,000 people from all over India, Nepal as well as from abroad, was to address these issues from the perspective of 'meditation in action'. Welcoming the huge audience on the first night, Shri Maharaj Ji said that we have to use the teachings of the great masters in awakening mankind to the inner spiritual power and bringing peace and harmony to society. He said that war is never the answer and thus the ancient sages prayed, "May all be happy, may all be healthy".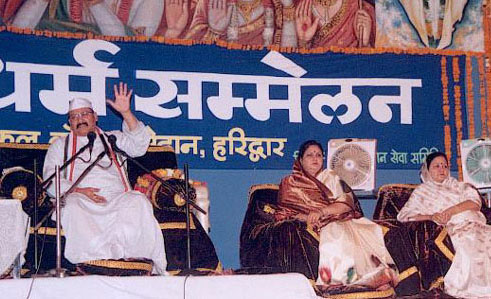 Sadgurudev Shri Satpal Ji Maharaj delivering discourse to the public in the eve of
Vaisakhi festival 2003
Premies had started arriving at Hardwar since 10th April, so by the 12th the ashram was already full to overflowing. Shri Maharaj Ji and the Holy Family arrived on the evening of the 11th, and straight away went to give darshan - Maharaj Ji in Manasrovar Hall, Shri Amrita Mata Ji and Shri Mangla Mataji in the new Shrine, and Shri Bhole Ji Maharaj in Goverdhan Hall. The lines were already so long that it was well after midnight before the darshan sessions finished. The next day, by 8 am, the darshan lines had again formed, winding their way around the different venues. For the next four days, Maharaj Ji and his family would sit (on average) 6 hours at a time, so that everyone would get plenty of opportunities to come before the Master. Many premies are poor or live very far away, so this may be their one chance in a year to attend a large program.
For the next four days, they will not have to think about their physical needs. The dining hall (bhandara) is open from 8 am to midnight, serving breakfast, lunch and dinner, with more than enough for everyone. The two huge circular toilet blocks took care of the hygiene aspects and there was a vast network of taps as well as the cool waters of the Ganges for bathing. This arrangement ensured minimum inconvenience, given the circumstances. Prem Nagar has four residential blocks containing more than 1000 rooms (most with ensuites). Even so, every corridor, pathway and garden, not to mention the cavernous Goverdhan Hall, were chock-full of blankets and bedrolls, each carving out a tiny personal space. The vast Rishikul College Ground, the venue for evening satsang, also became a campsite housing many thousands more each night after the program had ended.
Prem Nagar itself has undergone something of a facelift in the past year. The front driveway has been widened with 'coach-lamp' type streetlights installed. Rows of niches for statuary have been built along the ashram boundaries and these will house statues of saints and masters from all religions. A computerised fountain, which puts on a fabulous sound-and-light show, was inaugurated during the festival, and this will form the centerpiece of a park designed to enhance the front of the ashram between the main gate and Goverdhan Hall. The exquisite shrine to Shri Hans ji Maharaj and Jagatjnani Shri Mata Ji is nearly complete. Walking through the shrine beneath its domes induces a feeling of peace. The seven-layered central dome has been painted to represent the seven holy rivers of India. The temple has many nooks and crannies where you can sit and meditate awhile.
Vaisakhi is one of three annual programs (the others are Hans Jayanti and Guru Puja). There are of course many regional programs as well throughout the year, but everyone tries to attend one of the main programs. The presence of so many premies and mahatmas from all over India and abroad, in all their regional and cultural variety, is very exhilarating. Spontaneous satsang groups form, where people listen intently or sing rousing bhajans together. All the satsang and darshan is a great battery-charger, as naturally the main aim of these programs is to inspire everyone to develop their personal meditation practice and go higher and deeper within.
On the evening of the 12th, after a simple opening ceremony, Shri Shraddhey ji Maharaj spoke, first of all in English then in Hindi. In the course of his most instructive satsang he said that we all come from different backgrounds, with different beliefs and cultural systems but at the core we are one and that is what the world must understand. The five major world religions may be likened to five fingers - either five fingers of the same hand or five separate fingers depending on one's viewpoint. Five fingers can form a fist, i.e. in unity there is strength. The founders of these religions did not intend to divide, but rather to unite mankind in a common bond.
Discussing the concept of 'maya', Shri Shraddey Ji said that we don't know what life holds in store for us, and this 'not knowing' is maya. He gave the example of a child who sees fire for the first time. He is fascinated and tempted by it and moves towards it to touch it, not knowing its true potential. Once he gets burned he understands the true nature of fire. The great master Shankaracharya explained that maya is fleeting and temporary and is bound by time and space. The only way to transcend it is by spiritual knowledge, so it is vital to know what Truth is and to know what spiritual Knowledge is. Knowledge is not something which is imposed upon a person, but is a way of living one's life. Parts of human nature are flawed (e.g. anger, lust, vanity, ego etc), they aren't realising their potential and keep us from realising ours. But once we know what limits us we can correct it. So first and foremost we must change ourselves. As we do this we come to know that we have a certain power, a certain knowledge that we haven't yet known.
He gave a further example of a seed, which contains within itself all the parts of a tree. The only difference between a seed and a tree is that the seed has not realised its potential. In the same way, we need to realise our potential and for that a spiritual teacher is necessary.
The melodious bhajan "insan ka insan sey bahichara/yehi paigam hamara/he manav dharm hamara. " It was the most popular song of the program and was sung each night. Then there was expectant silence as Shri Maharaj Ji prepared to speak. He first of all said that those who fight, who commit acts of terror, in the name of their religion claim that their religion is in danger. But if a religion can be in danger, how can it save us? How can it give us salvation? And moreover, which religion ever encouraged warfare? An army can reduce a country to rubble and claim it has won, but that does not mean the conquerors have won the hearts of the inhabitants. He illustrated this with the story of Mohammed's triumphant return to Mecca, which he and his persecuted followers had fled years before. As they entered the city, Mohammed commanded that no citizen of Mecca was to be harmed and there was to be no looting. The people of Mecca expected Mohammed to take revenge and massacre them, so they were amazed to see that he had come in peace. And this is how he finally won them over. Love is the greatest weapon.
Satsang was interspersed with bhajans (devotional songs) from both Shri Bhole Ji Maharaj and premie musicians from around the country. After the program, thousands upon thousands of premies walked the 2 kms back to Prem Nagar and a journey which would normally be tedious was now joyous. The ashram was festooned with lights and looked spectacular from afar. As we entered the gates it was indeed like entering another world.
A special event took place on morning of the 14th. Shri Maharaj Ji, in his capacity as Uttarakhand Regional Chairman of the Congress Human Rights Committee and Shri Amrita Mata Ji in her role as Uttarakhand Minister of State for Women's Welfare, addressed an "All-India Women's Empowerment Forum", the first event of its kind. It took place held in the same Rishikul Ground and attracted a huge audience. Special guest speakers included the Chief Minister of Uttarakhand himself Mr N D Tiwari, the Deputy Leader of the Federal Opposition Mr Shiv Raj Patil, the All-India Congress Human Rights Committee Chairman and former Chief Justice of India Shri Rangnath Mishra. In his welcoming address, Shri Satpal Ji Maharaj highlighted the discrepancy between the veneration of womanhood as a national ideal and women's actual vulnerability to abuse, violence, exploitation and brutality. He said that restoring full rights to women and preventing the dowry deaths and other crimes committed against them should be a national priority. Shri Mata Amritaji in her speech described the hard life the women of the Uttaranchal region have to endure and enumerated the special plans and projects that her department were already undertaking and those that would be commenced in the near future.
That evening, Rishikul College Ground was again transformed into a holy place and the air rang with devotional songs. The Ground is so huge and the audience so large that closed-circuit TV screens were necessary so that everyone could get a decent view of the proceedings. In his closing address, Shri Maharaj Ji asked his listeners to take the message of this event, the message of peace, harmony and self-evolution, back home with them as this is the only way that society can truly change. At the close of the program the vast Ground became a sea of lights as the audience of more than 150,000 sang Arti from the depths of their hearts.